You are here
Back to top
The Three Billy Goats Gruff (Hardcover)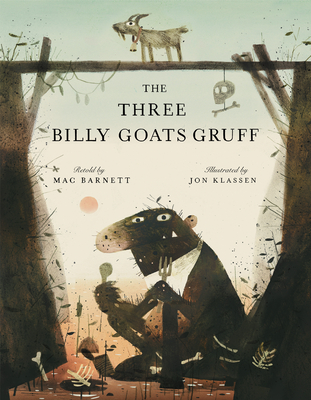 $18.99

Usually Ships in 1-5 Days
November/December 2022 Kids Indie Next List
---
"Mac Barnett and Jon Klassen breathe new life into a classic tale. Entertaining, funny and with Klassen's signature art, this is sure to be a story time favorite. Do yourself a favor and get your hands on this delightful new picture book!"
— Jen Steele, Boswell Book Company, Milwaukee, WI
Description
---
Instant New York Times bestseller!
The MOMENTOUS debut of a groundbreaking Fairy Tale series -- a brilliantly crafted, hilarious twist on this beloved classic, The Three Billy Goats Gruff, from renowned, award-winning, and New York Times bestselling duo and picture book pioneers Mac Barnett and Jon Klassen!
Once there was a bridge and a terrible and VERY hungry troll lived underneath it. When the three Billy Goats Gruff decide to clip-clop across the bridge to get to the grassy ridge, the troll is already imagining all the way to prepare a delicious goat dinner. But the troll underestimates those seemingly sweet but oh-so-savvy goats! This is the first in a groundbreaking new collection of fractured fairy tales crafted by one of today's most celebrated and acclaimed authors, Mac Barnett, and brought to stunning visual life by award-winning and beloved creator of I Want My Hat Back, Jon Klassen.
Told with pitch perfect timing and pacing, hilarious detail, and Barnett's signature narrator voice, this is Billy Goats Gruff as never before. High-stakes page turns will have readers on the edge of their seats and giggling along, as they join each goat and anticipate the arrival of the hungry and terrible troll living under the bridge. With Klassen's brilliantly restrained scenes, arresting characters, and celebrated artistic style, this first of three fairy tales is destined to be a true publishing event!
With a multitude of Caldecott Medals, Honors, international awards, and New York Times bestsellers to their names both independently and in collaboration, this is a creative pairing that is electric. So get ready to experience picture book magic... all you have to do is cross the bridge!
About the Author
---
JON KLASSEN is an animator and Governor General's Award-winning creator of children's books. His book This is Not My Hat won both the American Caldecott Medal and the British Kate Greenway Medal, making Jon the first person to win both awards for the same work. Jon was born in Winnipeg, Manitoba, and currently resides in Los Angeles.
MAC BARNETT is the New York Times bestselling author of many picture books, including the New York Times bestseller The Wolf, the Duck, and the Mouse; the Caldecott Honor Book and E.B. White Read Aloud Award-winner Sam and Dave Dig a Hole; and the Caldecott Honor Book and Boston Globe-Horn Book Award-winner Extra Yarn. He is also the coauthor of the bestselling Terrible Two series with Jory John. Mac lives in Oakland, California.
Praise For…
---
Praise for The Three Billy Goats Gruff:
2023 Odyssey Honor Book
A New York Times Best Children's Book of 2022
The Horn Book Magazine Best Book of 2022
A Smithsonian Magazine Best Children's Books of 2022
Selected by the Chicago Public Library as one of 2022's Best Picture Books
* "It's hard to imagine a more appropriate pair of picture book rascals to remix this famous fairy tale, a series-starting retelling, than collaborators Barnett and Klassen." -- Publishers Weekly, starred review
* "This inaugural offering in Scholastic's new fairy-tale series... sets the bar high and will be a favorite read-aloud among kids. Picture-book superstars Barnett and Klassen are known for their stellar collaborations, and their many fans will be waiting to snap this up." -- School Library Journal, starred review
* "Sure to be a read-aloud favorite, this engaging interpretation will sit comfortably next to memorable versions by Marcia Brown, Glen Rounds, Paul Galdone, and Jerry Pinkney." -- Horn Book, starred review
"This classic Norwegian fairy tale gets a hilarious and thrilling update courtesy of the picture-book kings Barnett and Klassen that will have kids giggling and gasping at the same time." -- The New York Post
"The Three Billy Goats Gruff feel so organic, the Norwegian folk tale reads like a retelling born of the oldest soil." -- New York Times Book Review
"This is the first volume in a planned Scholastic series of fairy-tales, cheekily told (and illustrated) anew." -- Wall Street Journal
"This wickedly funny take will leave children clamoring for more." -- Bookpage
"Fans of either Barnett or Klassen will love this retelling." -- Kirkus Reviews
"Barnett and Klassen's playful retelling gives a modern tone to the fairy tale and offers young readers the opportunity to muse about the story's conclusion." -- Shelf Awareness
"Kids in your life with thank you for adding this fresh fairy-tale remake to their shelves." -- Smithsonian Magazine
Praise for Mac Undercover (Mac B., Kid Spy #1):
A New York Times bestseller
An Amazon Best Book of 2018
* "Barnett and Lowery bring the funny to the serious art of espionage in a perfect interplay of text and illustration... Barnett interweaves tidbits of global history fit for trivia lovers, while Lowery's comic-style images play a key role in the humor... Told with a sense of nostalgia for 1980s history and pop culture, the silliness and originality of this book will hook young readers." -- School Library Journal, starred review
Praise for The Impossible Crime (Mac B., Kid Spy #2):
A New York Times bestseller!
"Barnett opens his casebook again -- this time to solve a classic locked-room mystery... Almost every page contains Lowery's illustrations, loosely drawn and garishly colored in green and orange, which give the whole affair a zany feel that is much enhanced by the narrative with its running gags. Kudos to a pint-size Poirot, pre-Mustache!" -- Booklist
"Barnett and Lowery team up again in this second outing of international espionage mystery with royal overtones... this is a nifty mystery for young readers and a worthy sequel to the first." -- Kirkus Reviews
Praise for Mac Barnett:
"[Mac Barnett is] a great young writer of books for young people. If you haven't read his work, run somewhere and do that. Books for young people have a rich and I daresay limitless future -- knock anyone who says otherwise into a ditch -- and Mac has a central place within that limitless future. Don't bet against him or anyone like him." -- Dave Eggers
"[In Barnett's books] there is no magic solution to any problem: The characters stumble through their dilemmas just as every one of us does. The world is a difficult yet good place, and there is no need for the typical rose-colored lenses that other children's books put on situations in order to fend off the bad stuff." -- Yiyun Li
"He is a believer that picture books can have Swiftian absurdity and untidy endings, and that 'life is absurd, and kids know that.'" -- The San Francisco Chronicle
Praise for The Wolf, the Duck, and the Mouse:
"Barnett and Klassen's collaborations are always good for a laugh, and this one banks heavily on absurdity, to great effect. This original pourquoi tale will make a fantastic choice for storytimes, as kids will want to dance along with the duck and mouse -- when they're not rolling in the aisles, of course." -- Booklist, starred review
Praise for Shape trilogy:
* "Klassen's palette is quiet, his weathered backdrops are elegant, and his comic timing is precisely synched to Barnett's deadpan prose. Whereas the humor in Sam and Dave Dig a Hole was subtle and sly, this shape showdown is pure, antic buffoonery." -- Publishers Weekly, starred review
Praise for Sam and Dave Dig a Hole:
* "When Sam and Dave dig a hole, readers get "something spectacular." The boys, on the other hand, do not. Their quest to find the spectacular brings them painfully and humorously close to buried jewels as they spade their way into the ground, accompanied by an intrepid canine companion." -- Kirkus Reviews, starred review